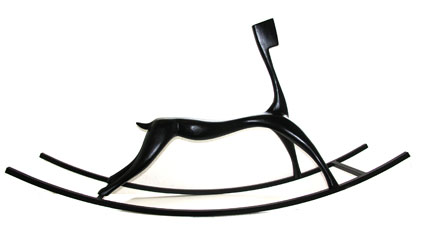 SINEW AND SILHOUETTE. Form and function. Horse and human. Rock and roll.
Could it be more beautiful? This exquisite rockinghorse is the work of Melbourne sculptor Rob Miller.
Made for the artist's own daughter, it caught our eye at Melbournestyle... So, now it can be made just for you.
Hand carved from cyprus and finished in Japan Black, it is strong enough to hold the weight of an adult,
and beautiful enough to never be used. Approx 2m wide by 1m high. Made to order, POA.
---
ROB MILLER - SCULPTURE


ROB MILLER studied Sculpture at Victorian College of the Arts 2006. Held a Residency in Berlin at the famous Tacheles KunstHaus, 2008-2009.
From the Artist:


Sculpture:

I approach my work intuitively, often inspired by things I thought I'd seen from the corner of my eye and if that thing wasn't what I thought but I liked it, then I will make a piece based on what it was I thought I saw. Day to day objects of furniture attract my attention as inspiration for my work. The rocking horse was inspired partly by carpenter's saw stools, or 'saw horses'. People, real or fictional characters from books, provide a huge inspiration for me. I like the moments between moments you can witness with people, the look between looks, the honest emotion can sometimes be seen then.


Furniture:

I like combining sculpture -the dumb object - with a practical use or function. I like being amongst beautiful things, and i like being responsible for creating at least some of these beautiful things. Furniture is practical and should be beautiful, though not necessarily extravagant. Often the more simple a piece is the more inviting it is. I see furniture as something with patience, having a sense of loyalty... somewhat like a butler.