Kaye Keck passed away in September 2010. As Director of Dromkeen, the National Centre for Picture Book Art, Kaye was tireless in her celebration and nurturing of children's book art.
Dromkeen is, at its base, a collection of illustrations and manuscripts of children's picture books. But it was so much more than that under Kaye's directorship. She brought both the collection and the place to life, for the children as well as for the illustrators and writers. She made it a home for them all.
Picture the statuesque Kaye, radiant in her wizard's stortytelling cloak and hat, surrounded by crossed-legged kids, rapt and absorbing every word. Kaye created a magical place filled with art and wonder; a rambling garden - wild and unpredictable - strewn with statues and peacocks; and a gallery homestead filled with exhibitions, painting sessions, laughter, events and champagne.

Kaye and Melbournestyle had collaborated for some years, hoping to create a book showcasing the as yet undocumented archive of Kaye's beloved Dromkeen. But it was not to be, and now, Dromkeen itself is coming to a close. As testament to Kaye's role, it seems Dromkeen could not survive without her driving energy, ingenuity and passion.
The collection of children's literature illustrations, books and sculptures will be passed to the State Library of Victoria, and the wonderful rambling 'Dromkeen' homestead at Riddells Creek will be sold. It is the end of an era, one that was due in most part to the efforts of Kaye herself and her parents before her.
Kaye ensured that children around the country would be well served by literature, by looking after the illustrators and writers that created it. Her indefatigable encouragement of Melbourne's (and beyond) children's book creators will be sorely missed. She was there for them all - Graeme Base, Shaun Tan, Alison Lester, Mem Fox and Ann James and hundreds of others. It is a tragedy that her work should come to an end, and that this home of storytelling should come to a close. Melbournestyle will do its utmost to keep Kaye Keck's work, spirit and name alive, for the child in every artist.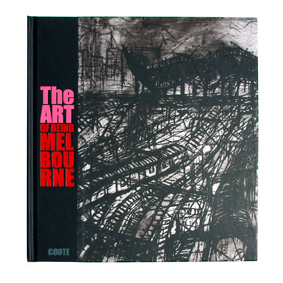 The Art of Being Melbourne
is dedicated to the memory of
Kaye Keck
SEE THE BOOK HERE