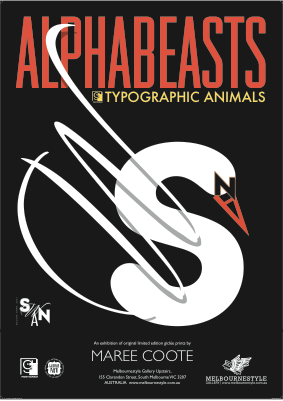 AGDA CREATE CHANGE PART2 EXHIBITION 2022, MELBOURNE


The Fontigram
by Maree COOTE
A survey of Design work that was developed with the intention to make change:
"Civic Good and Making Good, AGDA Design Shift looks at the extent of creativity; to solve problems,
change perspective, influence behaviour transform ideas into action, improve and enrich our lives, communicate better,
build innovative and meaningful products, and connect us as humans in all of its forms."
MAREE COOTE'S language-based graphics have travelled the world
in books and exhibitions, illuminating the spoken word.
Embraced by non-native English speakers, the work is enjoyed as a unique way to link words and images, spelling and design.
Gandong Arts Centre, Seoul 2020

Alphabet City Zoo
by Maree COOTE
Held Curated by Mr Kang Wook and Lee Eun Hwa, of CCOC
From November 2020.
A new exhibition opened at the Gangdong Cultural Foundation at the Gandong Arts Centre in Seoul, South Korea, entitled: Artists & Masterpieces: 50 Years of the Bologna Festival. This follows on the success of the first tour of this exhibition in the southern city Daegu in 2018-2019. This time, the works are toured to Gandong in Seoul.


This video above shows the Alphabet City Zoo section of the exhibition. The overall exhibition has a 'featured artist' installation. ALPHABET CITY ZOO by Maree Coote was selected as that feature, and is exhibited over a number of rooms in the gallery space in a walk-through experience, complete with cut-outs, mobiles, puzzles and hands on activities.

---
Deagu MBC EXHIBITION GALLERY 2018-2019

Alphabet City Zoo
by Maree COOTE
Held at Daegu MBC, Daegu Munwha Broadcasting Corp. #400, Dondaegu-ro, Suseong-gu, Daegu, 42020
Host : Deagu MBC- Curated by Lee Eun Hwa, CCOC
From November 3 2018 to 24 January 2019.
---
Letter Art Exhibition
ALPHABET CITY ZOO: by Maree Coote is the feature at a November 2018 exhibition showcase tour
of the best of the Bologna Ragazzi Chidrens Book Fair. Curator Lee Eun-Hwa has created a delightful and unique world of letters
from Coote's typographic art, incluing a walk-through installation that brings her amazing Letter Art to life.
| | | |
| --- | --- | --- |
| | | |