BERN EMMERICHS 'COLONIALS' - Hand painted ceramics of great historic import and wit. Each one an original masterpiece.
Plates, platters, tiles and more at melbournestyle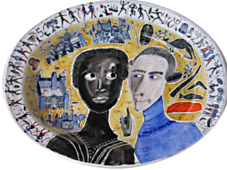 Bern Emmerichs has been creating smaller ceramic works for melbournestyle since 2007 on the theme of Melbourne's colonial past. Bern's interest in history is a happy match with this gallery's quest for fine art imbued with a particular sense of place.

Bern re-imagines the past through her unique narrative portraits of the people that configure our history. Scanning Australia's past, she moves in and out of the epic and the personal space. She collects those identities that pique her curiosity, dissecting their stories and cataloguing the imagery and the meaning of their contribution, and adding notes and anecdotes in her trademark script. Her whimsical style delivers a unique personal take on our history, ranging in tone from tender to cheeky to tragic.

Bern's latest show FACING HISTORY opened on 10 Feb at melbournestyle (til Feb 27). In these larger works on stoneware slabs, Bern adds new depth and authority to her interpretations. The sheer scale of these works heightens their impact and gravitas, and yet they retain a distinctive and intimate charm as she experiments further with the subtleties of tone and texture in ceramic painting.